In Memory
Nancy Agnew (Peche)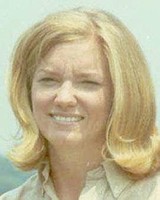 Nancy Louise Peché, age 69, passed away on Friday, April 3, 2015. She was born in Honolulu, Hawaii July 28, 1945. She is preceded in death by her husband of 43 years, Dr. William Joseph Peché, and her parents, Francis Louise and William Albert Agnew. She is survived by her sister, Sally and husband Charles Koch of San Antonio, Texas; son, Dr. William Joseph Peché, Jr. and wife Melanie of Salt Lake City, Utah; daughter, Vanessa Ann and husband Robert Harrison Gleason of Houston, Texas; grandsons, Tristan Esparza Peché and Oscar William Peché of Salt Lake City; sister-in-law, Ofelia Peché and numerous nieces and nephews.
Nancy was a graduate of Highlands High School, Class of 1964 and Robert B. Green Nursing School in San Antonio where she met her husband Bill. She was a member of the Bexar County Medical Auxiliary, Symphony League, The Garden Club and Daughters of the American Revolution. As the wife of a physician, Nancy ran the household. She raised her children, and sometimes the neighbor's children, carted kids to recitals and ball practices all while wrangling the family's assortment of pets including dogs, cats, birds, hamsters and a wild Green-winged Teal duck. Nancy loved music of all genres, taking her children and their friends to concerts and instilling her love for music in her daughter, Vanessa. She was a phenomenal baker and cook. She taught her children and others to water ski in Lake Dunlap and to snow ski in New Mexico and Colorado. Nancy and her husband Bill enjoyed attending Spurs games with friends and were active members of Holy Spirit Catholic Church. Later in life Nancy loved spending time with her children, spoiling her grandchildren and researching the family's genealogy.
Nancy Peché was a devoted wife, mother, grandmother and friend to many and will be greatly missed by all.
We want to thank everyone who assisted with her care with special thanks and gratitude to her sister Sally and her husband Charles Koch; her sister-in-law Ofelia Peché; friends, Helen and Tom Reichenberger, Stacia and Mike Spridgen and Pat Ulmer, for all the help, loving and care they gave her and her family during her last eighteen months.
In lieu of flowers, the family requests donations in memory of Nancy Louise Peché be made to the American Cancer Society.

You are invited to sign the Guestbook at www.porterloring.com