In Memory
Victor Hill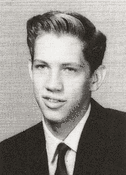 Vic is survived by his mother, his son David, and his ex-wife Terri.
Vic succumbed to lung cancer on Wednesday, the 2nd of September, 2009 in Cibolo, Texas.
It's said that Vic was a guy's guy. He loved family, country, car racing, and poker at all levels.
John Jersig said, "Vic had a quick wit and strong opinions. He was a loyal friend who will be missed."