In Memory
Roberta Parker (Easterling)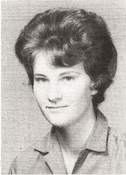 From Barbara Jackson Fannin:
Roberta was the class 'valedictorian'.
I'm sure she influenced many students in her years of teaching at the college level.
She was a grant writer for a number of years and really enjoyed her time working with the Boonshoft Museum in Ohio.
She enjoyed telling me about some of the experiments she was writing grants for. Some included projects to be carried into space. I'm sure many more were more for earth-bound funding, but she was tickled to tell me about these.
We had, after all, pioneered girls being accepted into the HHS Boys Science Club, with the name changed to Chem-Bi-Phy.
I'm sorry we did not ever live very close again. But was delighted to catch up with her at the time of the 30th anniversary of graduation.
We got to a very peaceful place and enjoyed a road trip together to visit Robert X. Rodriguez and Nan Jones before she headed back to Ohio.
In the years since, Bill and I were delighted to hear from her more often.
The world has lost a great person and our good friend. She fought the return of her cancer so valiantly---it was a gift to those of us, too, who might benefit from what could be learned through her own treatment.
Rest in peace, Bobbie.
We'll remember you fondly.

Admin Note:
It's always interesting to find out something you didn't know about someone you grew up with. Roberta was an author published by UT Austin in 1970. Google Roberta Parker Easterling to find out more about the book and information on her passing or click here.