In Memory
John Frederick Turner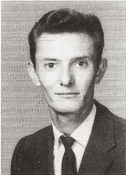 John Frederick "Tex" Turner, 68, of Lexington Park, MD, formally of San Antonio, Texas passed away at MedStar St. Mary's Hospital, Leonardtown, MD on August 14, 2014.
Born November 20, 1945 in San Antonio, TX, he was the son of the late John D. and Dorothy Rawlins Turner.
Tex served a tour in the Navy during the Vietnam War. He was the owner and operator of Tex Air, air conditioning and refrigeration company. He enjoyed fishing, bird watching, wood working and spending time with his pets.
Tex is survived by his two sisters, Linda Adams and Donna Knight and their children; his companion, Kelli Cassidy and her family; his step children, Eddie Hefner, Linda Sue Hefner, Nancy Ann Balta, and Bobbi Jo MaGee and their families. In addition to his parents, Tex was preceded in death by his beloved Uncle Fredreck and Aunt Beth Turner, twin brother Edward Franklin "Franky" Turner, and wife Mary Rose Turner, whom he married on October 24, 1969.
Family will receive friends Friday, August 22, 2014 from 10:00 A.M. to 12:00 p.m. at the Brinsfield Funeral Home, 22955 Hollywood Road, Leonardtown, MD 20650. A Funeral service will be held at 12:00 p.m. Interment will follow in St. Michael's Catholic Cemetery, 16555 Three Notch Road, Ridge, MD.
Guest book entries and condolences to the family may be made here.