In Memory
Glenna Osborne (Strength)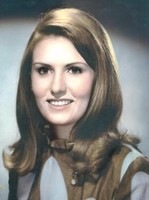 Glenna Osborn Strength - March 14th, 2011 SANTEE - Glenna Ruth Osborn Strength, 64, beloved wife of Richard Alan Strength, died Monday, March 14, 2011, at her home in Santee.
Born August 11, 1946, in Oklahoma City, Oklahoma, she was a daughter of the late Gerald Osborn and the late Mossele Osborn. She was a mother, a housewife, a Clemson Master Gardener, a member of the Red Hats and was of the Lutheran faith. She is survived by her husband of Santee; two sons, Christopher Strength of Boynton Beach, FL and Steven Strength of DuBois, PA; a grandson, Dayton Kyle Strength of Bellwood, PA; and a brother, Craig Osborn of Denton, TX.
A memorial service was held at 3:00 p.m. on Saturday, March 19, 2011, at Hope Lutheran Church in Vance with the Rev. Wayne Young officiating.
Memorials may be made to the American Heart Association, 520 Gervais St., Suite 300, Columbia 29201.
Stephens Funeral Home & Crematory, 304 N. Church St., Manning, was in charge of arrangements.